Isla Del Sabalo
 - FULL
Patrick's Fly Shop and Wes Rostomily
October 15 - 22, 2022
________________________________________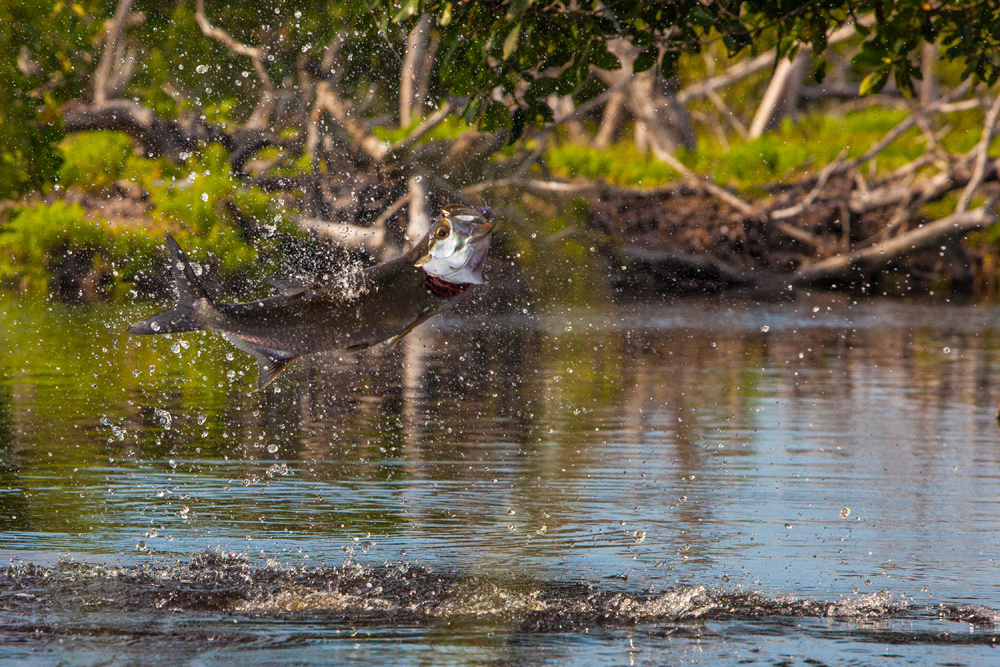 Isla del Sabalo "Island of Tarpon" is truly the new frontier in world-class fly fishing for baby tarpon. Ranging in size from 5 to 30+ pounds, these tarpon reside in environs of turtle grass flats and mangrove lined lagoons, creeks and channels. This habitat is also home to snook, snapper and barracuda. The hallmark of this fishery is the gin-clear flats and the amazing network of backcountry lagoons and channels. These characteristics make this fishery an incredible rearing ground for these resident baby tarpon. Whether you are sight-casting to rolling tarpon on the flats or working the mangroves with your top-water pattern, fly fishing for tarpon at Isla del Sabalo is a pure adrenaline rush.
Here, roving schools of fish vary greatly in size from just a few tarpon all the way to several hundred fish. Similar to their larger brothers and sisters, these babies can be sensitive to environmental conditions and may challenge even the most skilled fly anglers. Properly setting the hook and making a well presented cast is half the battle and the experience is always thrilling and utterly addictive. The guides at Isla Del Sabalo are a highly experienced crew and are extremely skilled at scanning for rolling fish and spotting schools moving under the surface.
The accommodations at Isla del Sabalo are simple and comfortable. The lodge is on the beach front facing the open ocean, allowing for refreshing cool ocean breezes while you relax at the lodge. Guests stay in ocean front cottages and each spacious guest room is equipped with air-conditioning, fans and a full private bath with shower (hot and cold water). Meals are served in the open-air dining palapa and consist of a host of fresh seafood and traditional Mexican cuisine.
Link to more information on the trip: 
________________________________________
Rate: $
4,360
.00 per person based on double occupancy
Note: Private rooms are be available for an extra fee
Included:
Accommodations and meals at the lodge, guided fishing, non-alcoholic beverages, guest taxes, fishing licenses, internet access, ground transfers between Merida hotel and the lodge.
Not Included:
Airfare, meals in Merida, accommodations at Fiesta Americana on your arrival day, alcoholic beverages, staff & guide gratuities, phone service, laundry service, fly fishing gear and tackle.
________________________________________
To Join the trip click on the link below:
Contact Fly Water Travel or Wes Rostomily
Fly Water Travel: 
541-631-7030
________________________________________
2022 Itinerary
Arrive Merida International Airport (MID) and overnight at the Fiesta Americana Hotel (independently arranged and not included)
Saturday / October 15:
Transfer to Isla Del Sabalo.
Sun

day to 

Fri

day / October 16 - 21

: 
Six full days of fishing.
Typical Daily Schedule:
5:00-5:30 AM: Wake up and coffee on
6:30 AM-11:30 AM: Fishing
12:00-3:00 PM: Lunch and siesta
7:30 PM: Cocktails and dinner
Transfer back to Merida. Depart Merida International Airport (MID).